A computer interface is one of many features provided by the hardware and software design.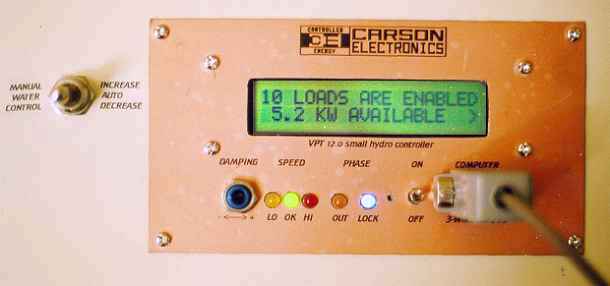 An LCD screen and 5 LED lamps display the plant's operational status, including load management, extra power currently available, and water control (the ">" in the corner of the screen means the controller is "increasing water" to the turbine).
Click on a photo for more info.
The LMD-4 Load Management Decoder
Google Small Hydro Search
Services and Rates
HydroMania - free downloads
Mountain Mania
Just For Fun (a topological challenge)
Valemount? Where's that
An e-mail button should appear here:
If not, your browser is probably blocking the javascript which
displays the button. To see the button, enable "active content" for
this web page only. You may need to click the yellow bar at the top of the browser window with some browsers.

Or write or phone us instead:


visitors
since Feb.
8, 1999

Carson Electronics
2950 McKirdy Road
Box 535
Valemount, BC V0E 2Z0 Canada
Telephone 1 250 566 4694
*If you have a PTC-3 trail counter with Serial number prior to 10101314, hang onto it - these units have roughly double the battery life of current units (estimated at up to 10 years). A change in design of the LCD display, done by the display manufacturers apparently in response to the discontinuation of a part they were using, has led to increased power consumption of the PTC-3.